SINOSORB® BP-1( UV-0)
Cas No.:131-56-6
Chemical Name:2,4-dihydroxybenzophenone
Synonym:Speedblock UV-0;Benzophenone-1;UV absorber UV-0
Structure: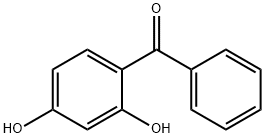 Appearance:White or pale yellow crystalline powder
Odor:Light phenolic odor
Specific Extinction(1%,1cm):E290nm ≥ 630
Purity (HPLC):≥ 99.0 %
IR Identification:As per reference standard
Melting Point:142.0℃~146.0℃
Loss on Drying:≤ 0.2 %
Heavy Metals (Pb):≤ 5 ppm
Gardner Color:≤ 3
Application:
BP-1 is mainly used in the fields of plastics, coatings, and adhesives; it also has some applications in optical materials
-Styrene: Anti-yellowing
-Polymethacrylate: Improve the optical and mechanical properties of the material (improve the light transmittance of the extruded sheet)
-Rubber system adhesive: improve the light stability of the glue
-Phenols and alkyd resins: improve weather resistance
-Epoxy and unsaturated resin system
-Plastic filter lens: improve the weather resistance of the color film
-Fluorescent paint: traffic signs and road signs
-Color liquid detergent
-Nail polishes.Max concentration: 5%
Storage:
Being kept in dry, clean warehouse with well ventilation.
Avoid exposing to light and heating for prevention of oxidation.
Protecting the product from leakage, rain and insolation during transportation.
Details
| | |
| --- | --- |
| Chemical Name: | 2,4-Dihydroxybenzophenone/ Benzophenone-1 |
| Cas No. | 131-56-6 |
| MF | C13H10O3 |
| Purity | 99.5% min |
| Package | 25kgs/carton |