SIPEROX® BPO
Cas No.:94-36-0
Chemical Name:Benzoyl peroxide;Dibenzoyl peroxide
Synonym:Luperox A98;LUPEROX A75;NOVIPER BP;Perkadox L-W75
Molecular structure: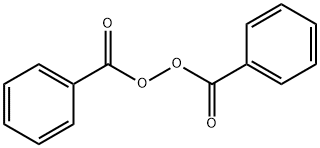 Specification:
Appearance : White powder, no contaminations
Assay : 73.0-77.0%
Total chloride as NaCl : 0.3% max.
Inorganic acid as hydrochloric acid : 0.2% max.
Organic acid as benzoic acid : 0.5% max.
Physical properties
Bulk density : 630 kg/m3, Major decomposition products
Carbon dioxide, Benzene, Benzoic acid
Packaging and transport
The standard packaging is a 5 kg polyethylene bag packed 4 per carton. Both packaging and
transport meet the international regulations.
Siperox® BPO is classified as Organic peroxide type C; solid, Division 5.2; UN 3104; PG II.
Application
(1).Benzoyl peroxide is an excellent catalyst for free radical polymerization process, used in
the production of polystyrene, polyvinyl chloride and methacrylates and for the cross-
linking of unsaturated polyester resins.
(2).Its catalytic activity will depend on several different factors including type of monomer,
temperature and presence or absence of accelerators or inhibitors.
Packaging and Shipping:
Packed in 20kg carton, each box contains 4 x 5kg plastic bags
Storage:
1. This product should avoid high temperature or open flames. It can produce explosive mixtures when mixed with reducing agents, accelerators, sulfur and phosphorus.
2. The product should be stored in a special warehouse, cool, dry and ventilated, and the warehouse temperature should be controlled between -30℃-40℃.
3. Keep away from heat sources and open flames, and do not mix with other foreign objects.
4. When loading and unloading, please load and unload lightly and keep away from heat sources.
Details
| | |
| --- | --- |
| Chemical name | Benzoyl peroxide;Dibenzoyl peroxide |
| Cas No. | 94-36-0 |
| Molecular formula | C14H10O4 |
| Molecular weight | 242.23 |
| Package | 20kgs/Carton |