Sinosorb® UV-P
Cas No.: 2440-22-4
Synonym:Drometrizole;Drometrizolum;LOTSORB UV P;Tinuvin P; 2-(2′-Hydroxy-5′-methylphenyl)benzotriazole; 2-Benzotriazolyl-4-methylphenol; UV absorber-1; Porex P; Benazol P; Sumisorb 200; ADK Stab LA 32; Arelite BT10; Cyasorb UV5365; Eversorb 71; Lowilite 55; Seikalizer AZ; Uvasorb SV; Uvinul 3033P; Viosorb 520
Structure: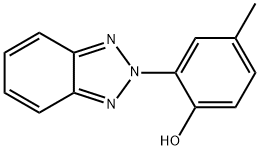 Appearance:Light yellow crystals
Purity (HPLC):99.0% min
Transmittance:440nm: 97.0% min
500nm: 98.0% min
Melting Point:128.0℃~132.0℃
Volatiles:0.50% max
Ash content:0.10% max
Clarity of Solution:Clear
Application:
• For PVC, PS, PET / PBT and acrylic resin , vinyl and vinyl / acrylic polymer, PU, PC and fibrate.
• Concentration:0.2-2.0%
Storage:
Being kept in dry, clean warehouse with well ventilation.
Avoid exposing to light and heating for prevention of oxidation.
Protecting the product from leakage, rain and insolation during transportation.
Details
| | |
| --- | --- |
| Chemical Name: | Tinuvin P; 2-(2'-Hydroxy-5'-methylphenyl)benzotriazole |
| Cas No. | 2440-22-4 |
| MF | C13H11N3O |
| Purity | 99.0% min |
| Package | 25kgs/carton |