SINOMER® TMPTMA
Cas No.:3290-92-4
Chemical name:Propylidynetrimethyl trimethacrylate;
Synonym:TMPTMA Monomer; ACRYESTER TMP;MIRAMER M301;Trimethacrylate de propylidynetrimethyle ;Trimetacrilato de propilidintrimetilo;2,2-bis[(methacryloyloxy)methyl]butyl methacrylate (non-preferred name)
Molecular structure: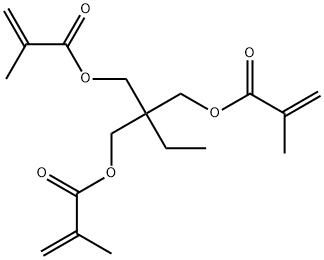 Standard:
| | |
| --- | --- |
| Item | Standard |
| Appearance (Visual) | Clean And Clear |
| Purity % | ≥95 |
| Acid Value (mg KOH/g) | ≤1 |
| Viscosity @25℃,cps | 40-60 |
| Color (Hazen) | ≤50 |
| Moisture (% Karl Fischer) | ≤0.2 |
Applications: 
Vulcanizing aid: When synthetic rubber is vulcanized with peroxide, TMPTMA can improve corrosion resistance, aging resistance and increase hardness and heat resistance. It can be used for NBR, EPDM, and acrylic rubber.
Cross-linking agent: TMPTMA can reduce the radiation dose, shorten the radiation time, increase the cross-linking density, and has the characteristics of low precision, high cross-linking degree, low vapor pressure and fast curing speed. It can be used for light curing inks and photopolymer materials.
PVC: It is blended into the molding of all the PVC solutions of the car body sealant and caulking agent, such as: 100 parts of PVC, 60 parts of DOP, 2-4 parts of stabilizers, 0.02-0.6 parts of organic peroxides, TMPTMA 5-30 copies.
Wire coating material: used as the color coating material of the wire-the cross-linking agent of PVC resin, and a very thin layer of fine linear coating can be used to produce a tough and heat-resistant film.
Sealing adhesive: making anaerobic adhesives for packaging, sealing and fixing mechanical bolts.
Packaging and Shipping:
Packing:25kg/drum or 200 kg/drum 
Delivery:with in 5-7 working days.
Storage:
Being kept in dry, clean warehouse with well ventilation.
Avoid exposing to light and heating.
Protecting the product from leakage, rain and insolation during transportation.
Details
| | |
| --- | --- |
| Chemical name: | Trimethylolpropane trimethacrylate |
| CAS No. | 3290-92-4 |
| MF | C18H26O6 |
| Package | 25 or 200 kg/ drum |
| Assay | 98%min |