SINOLSTAB® UV-123
Chemical Name:Bis-(1-octyloxy-2,2,6,6-tetramethyl-4-piperidinyl) sebacate;TINUVIN 123;Chiguard 101;Eversorb 95;Omnistab LS 123;THASORB UV-123;SUNSORB LS-123;Light stabilizer UV-123;Light stabilizer HS-112
Cas No.: 129757-67-1
Structure: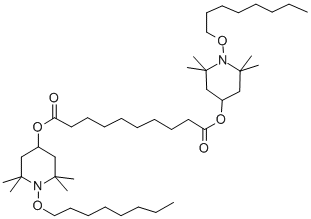 Appearance:   Clear, light yellow liquid.
Viscosity (kinetics at 20℃) : 3000mPa.s
Density at 20°C:  0.97g/cm3
Melting Range:≤-30℃
UV-123 can be miscible with most coating solvents at a ratio of more than 50%, and the solubility in water is less than 0.01%, but UV-123 is easy to emulsify into water-based systems.
Application Area:
Automotive coatings, industrial coatings, decorative coatings and wood coatings.
Add amount:
Automotive paint and industrial paint: 0.5-2%UV-123 + 1-3%UV- 1130 or UV-384 or UV-928 or UV-400
Decorative paint and wood paint: 0.5-2%UV-123 (used alone) or +1-3%UV-1130 or UV-384
Pack:20kg ,25kg,200kg Drum
Storage:Stored in a cool dry place out of direct sunlight.
Details
| | |
| --- | --- |
| Chemical Name | Hindered Amine Light stabilizer UV-123/HS-122 |
| Cas No. | 129757-67-1 |
| M.W | 737.15 |
| Package | 20kg,25kg,200kg/drum |