SINOFLARE® TEP
Cas No.:78-40-0
Chemical Name:Triethyl phosphate
Synonym: Flame retardant TEP;Ethyl phosphate;LanTEP;Levagard TEP-Z;AURORA KA-1638
Molecular Structure: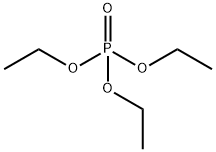 Specifications:               
Appearance…………Colorless transparent liquid
P contains,%wt  …………17
Purity, %…………>99.0
Acid value, mgKOH/g…………<0.1
Water content,%wt…………<0.2
Packing:200L/drum,1000kgs/IBC
Application:
• (1) Used as catalyst: xylene isomer catalyst; olefin polymerization catalyst; catalyst for manufacturing tetraethyl lead; catalyst for manufacturing carbodiimide; catalyst for substitution reaction of trialkyl boron and olefin; high temperature with acetic acid A catalyst for the production of ketene by dehydration; a catalyst for the polymerization of styrene and conjugated diene compounds; if used in the polymerization of terephthalic acid and ethylene glycol, it can prevent fiber discoloration.
• (2) Used as solvents: solvents for nitrocellulose and cellulose acetate; solvents for maintaining the life of organic peroxide catalysts; solvents for dispersing fluorinated ethylene; as curing catalysts for polyester resins and epoxy resins Peroxide agent and diluent.
• (3) Used as stabilizers: chlorine-based insecticides and stabilizers; stabilizers for phenolic resins; solid agents for sugar alcohol resins.
• (4) For synthetic resin: curing agent for xylenol formaldehyde resin; softener for phenolic resin used in shell molds; softener for vinyl chloride; plasticizer for vinyl acetate polymer; polyester resin Flame retardant.
Storage:
Being kept in dry, clean warehouse with well ventilation.
Avoid exposing to light and heating.
Protecting the product from leakage, rain and insolation during transportation.
Details
| | |
| --- | --- |
| Chemical Name | Triethyl phosphate |
| Cas No. | 78-40-0 |
| Formula | C6H15O4P |
| Package | 200kgs/drum;1000kgs/IBC Drum |