SINAINT® Phenolphthalein
Synonym Name:2-[Bis(4-hydroxyphenyl)methyl]benzoic acid; 3,3-Bis(4-hydroxyphenyl)-1(3H)-isobenzofuranone; 3,3-Bis(4-hydroxyphenyl)phthalide
Cas No. :77-09-8
Melting point: 261-263 °C (lit.)
Boiling point: 417.49°C
Flash point: 24 °C
Molecular structure: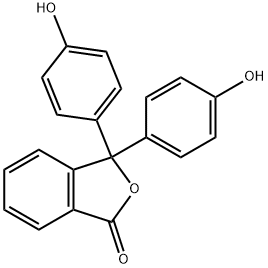 Spec:
Item
Specifications
Characteristics
A white or almost white powder, practically insoluble in water, soluble in alcohol.
Melting Point
It melts at about 260℃
Identification
A:Positive B:Positive
Appearance of solution
The solution is clear and not more intensely coloured than reference solution Y7
Related substances
Less than 0.5%
Heavy metals
Not more than0.001%
Acidity or alkalinity
Complies
Chlorides
Not more than 0.01%
Sulphates
Not more than 0.02%
Loss on drying
Not more than 0.5%
Sulphated ash
Not more than 0.1%
Assay
98.0%-101.0%(C2OHi4O4)
Microorganism
TPC<1000cfu/g
Y and M <100cfu/g
E-coli – absent
Staphylococcus Aureus-Absent
Pseudomonas Aeruginosa-Absent
Albicans Saccharomyces-Absent
Application:
1. Pharmaceutical raw materials for the pharmaceutical industry: suitable for habitual stubborn constipation, with various dosage forms such as tablets and suppositories.
2. Used in organic synthesis: mainly used in the synthesis of plastics, especially the synthesis of phthalazinone polyaryl ether ketone polyaryl ether ketone polymers, which have excellent heat resistance, water resistance and chemical resistance Corrosion, heat aging resistance and good processing and formability, fibers, coatings and composite materials made from them have soon been widely used in electronic appliances, mechanical equipment, transportation, aerospace, atomic energy engineering and military fields.
3. Used as acid-base indicator, indicator for non-aqueous titration, reagent for chromatography.
Packaging and Shipping:
Fiber Drum,25kg
Storage:
Stored in a cool dry place out of direct sunlight.
Details
| | |
| --- | --- |
| Other name | Phenolphthalein |
| Cas No. | 77-09-8 |
| Molecular formula | C20H14O4 |
| Molecular weight | 318.32 |
| Package | 25KGs/drum |